Product Description
THE Cycle Computer for Competing, Connecting and Navigating
In-ride competitions through Garmin Connect™ segments
On-road or off-road navigation and points of interest with the preloaded Garmin Cycle Map
Input a distance and choose from up to 3 round-trip ride options
Instant uploads to Garmin Connect™ Mobile to analyse and share
Connected features¹: incoming call, email and text alerts², live tracking, sending/receiving courses, social media sharing and weather
Whether you're riding to improve your own personal best or see where you stand against the Pro's, Edge 1000 lets you connect, compare and compete. Turn every ride into a race by competing on Garmin Connect segments and seeing real-time results on your Edge, including alerts for segment start and finish and leaderboard rankings. The segments feature keeps you motivated and helps you push for continual improvement.
Own the Road
Along with in-ride challenges and connected features, Edge 1000 offers advanced bike-specific navigation and mapping capabilities. The preloaded Garmin Cycle Map includes OSM (Open Street Map) content with routable road and cycle paths, elevation data, points of interest and address search. Mapping data is stored onboard the Edge, so your access to navigation and performance capabilities isn't dependent on mobile phone coverage, and map updates are free.
---
Know Where to Go
Now you can explore more, on and off road, thanks to this device's round-trip routing feature. Simply enter how far you want to ride, and Edge 1000 calculates up to 3 cycling-friendly routes. You can even review the elevation profiles before making your selection. It also offers a new route planner capability that allows you to create routes directly on the Edge 1000 using the map, POI and segments you've downloaded from Garmin Connect. Again, you can preview the elevation profile of your custom route before you roll. If you do get off course or want to end your ride sooner, Edge can always guide you back to the start or calculate the most direct route and provide turn-by-turn directions to get you back.
At Your Fingertips
Edge 1000 features a 3-inch high-resolution colour touchscreen display with dual orientation*. It has an ambient light sensor that automatically adjusts the screen brightness to changing light conditions to improve visibility. Unlike your smartphone, the display is optimised to work with gloves and in the rain³. You can customise your training pages with up to 10 data fields and use activity profiles to allow for easy transitions when you switch cycling activity, such as road, mountain or touring.
Advanced Performance Analysis
Edge 1000 is compatible with ANT+® sensors, including speed, cadence, heart rate and compatible weight scale. It's the first Garmin cycle computer that integrates with Shimano Di2 electronic shifting systems4 to display your current gear on the screen. Edge 1000 is also compatible with ANT+ power meters, including Vector®, our unique pedal-based power meter that measures total power, left/right balance and cadence. A preloaded power-based workout on Edge 1000 allows you to calculate your functional threshold power (FTP), from which you can base your power training zones. The 1000 offers a training calendar and is compatible with advanced workouts, which you can plan, schedule and upload from Garmin Connect.
iLevels Compatibility
Compatible Garmin Edge devices will now work with WKO4 individual power levels (iLevels), the newest metric for cyclists and triathletes who train with a power meter. Developed by Dr. Andrew Coggan, iLevels are specific training levels based on an athlete's unique physiology and current level of fitness.
WKO4 software, developed by TrainingPeaks, has changed how coaches and athletes analyse data and prescribe workouts. Fully customisable charts allow you to view and compare specific data to gain clearer insights into your training. Based on the introduction of the power duration curve, WKO4 has introduced several new training metrics, including Functional Reserve Capacity and Pmax tracking, which help coaches and athletes track their specific fitness.
The prescription of power-based training is derived from an athlete's Functional Threshold Power and targeted to general percentages. iLevels are based on the power duration curve and adjust automatically based on your performance. They detect micro changes in fitness to ensure you are always training at the right intensity.
Now you can update iLevels directly from WKO4 by simply plugging in your Edge and automatically downloading the daily iLevels to your Garmin device. These iLevels will be displayed in a unique 9 levels view on the Garmin head unit and will be available in workouts. Download a free 14-day trial of WKO4 from TrainingPeaks
---
Smartphone Connectivity
When paired with your smartphone and the Garmin Connect™ Mobile app, Edge 1000 offers a suite of connected features, including live tracking, incoming call and text alerts, social media sharing, weather, wireless uploads and the sending/receiving of courses and segments. As soon as your ride is complete, the data can be automatically sent to Garmin Connect via Bluetooth® or Wi-Fi®. This lets you stay connected and instantly share the details of your ride with friends, family and social media contacts. LiveTrack allows your friends and family to follow your races and training activities in real time. Invite followers using email or social media, so they can view your live data on a Garmin Connect tracking page. Once they get your email invite, they can click to follow and see your stats and location on the map.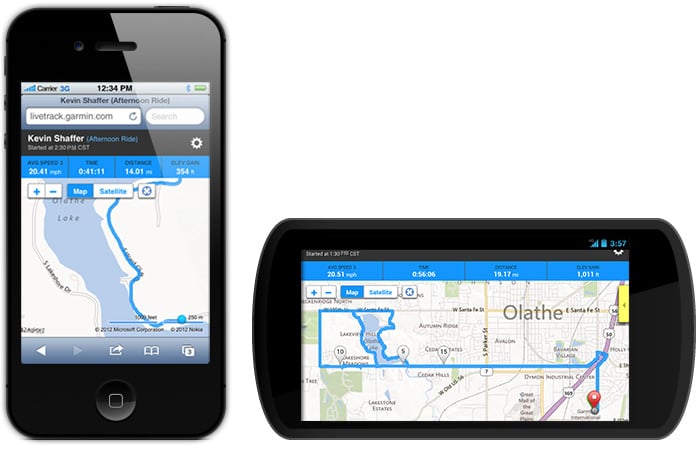 LiveTrack
LiveTrack lets family and friends track your location in real-time while you're riding, and now it's even easier to use. When you enable auto-start, you can spend more time focusing on the ride and less on the technology. LiveTrack will automatically detect when you start riding, which means there's no need to even reach for your phone anymore. Auto-start is also compatible with the new Strava Beacon, which lets Strava Premium subscribers take advantage of the same great feature. It's never been easier for you and your loved ones to have peace of mind while you ride.
General

PHYSICAL DIMENSIONS
2.3" x 4.4" x 0.8" (58.0 x 112.0 x 20.0 mm)
TOUCHSCREEN
Yes
COLOUR DISPLAY
Yes
DISPLAY SIZE
1.5" x 2.6" (39.0 x 65.0 mm); 3.0" diag (76.0 mm)
DISPLAY RESOLUTION
240 x 400 pixels
WEIGHT
4.0 oz (114.5 g)
BATTERY TYPE
Rechargeable lithium-ion
BATTERY LIFE
Up to 15 hours
WATER RATING
IPX7
Maps & memory

ABILITY TO ADD MAPS
Yes
BASEMAP
Yes
STORAGE AND POWER CAPACITY
Yes
WAYPOINTS/FAVOURITES/LOCATIONS
200
ROUTES
100
HISTORY
Up to 180 hours
Sensors

GPS
Yes
GLONASS
Yes
BAROMETRIC ALTIMETER
Yes
Daily smart features

SMART NOTIFICATIONS
Yes
Training, planning and analysis features

CUSTOMISABLE SCREEN(S)
Yes
AUTO PAUSE®
Yes
INTERVAL TRAINING
Yes
ADVANCED WORKOUTS
Yes
AUTO LAP®
Yes
VIRTUAL PARTNER
Yes
AUTO SCROLL
Yes
Cycling features

ALERTS (TRIGGERS ALARM WHEN YOU REACH GOALS INCLUDING TIME, DISTANCE, HEART RATE OR CALORIES)
Yes
COURSES
Yes
GARMIN CYCLE MAP (ROUTABLE CYCLING-SPECIFIC STREET MAP)
Yes
POWER METER COMPATIBLE
yes_(records_data_approx._1_per_second)
Additional

ADDITIONAL
On-device segments: Yes Wi-Fi® compatible: Yes Smart Notifications: Yes GLONASS: Yes Compatible with Garmin Connect™ Mobile: Yes Round-trip Routing: Yes Route planner: Yes
Only logged in customers who have purchased this product may leave a review.