Garmin Venu 2 Silver
Garmin has made this beautiful watch keeping Health , Fitness and Lifestyle in mind .
EMI Policy: Click here to check EMI Policy
View More
2 in stock
Product Description
Silver Stainless Steel Bezel with Granite Blue Case and Silicone Band
When you live healthy, you live better. This GPS smartwatch has advanced health monitoring and fitness features to help you better understand what's going on inside your body.
Track more health stats, and get a closer look at what's going on inside your body.
Find new ways to move your body with more than 25 preloaded sports apps.
Want some coaching? Follow along with animated workouts right on your wrist.
Store music on the watch so you can leave your phone behind.
Tap your wrist at the register to pay1. Easy and touch-free.
Bright AMOLED display and up to 11 days of battery life? Yes, please!

DESIGNED FOR LIFE AND STYLE
A beautiful AMOLED display brings this watch to life, even under bright sunlight. Try always-on mode to keep the display visible at all times.
MADE FOR THE ACTIVE LIFESTYLE
From durable Corning® Gorilla® Glass 3 to the sleek stainless steel bezel and comfortable silicone band, this smartwatch is ready for anything.
HEALTH SNAPSHOT™ FEATURE
Log a 2-minute session to record key stats, including heart rate2, heart rate variability, Pulse Ox3, respiration and stress. Then generate a report with those stats via the Garmin Connect™ app on your compatible smartphone to share.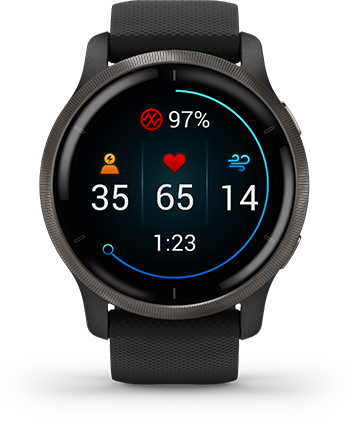 BODY BATTERY™ ENERGY MONITORING
See your body's energy levels throughout the day so you can find the best times for activity and rest.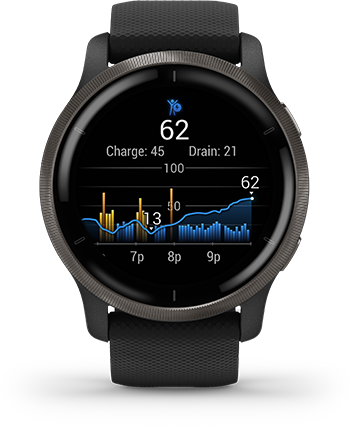 PULSE OX SENSOR
Use the Pulse Ox sensor3 to spot check your blood oxygen saturation at any point during the day, or for part of the night as you sleep, to show how well your body is absorbing oxygen.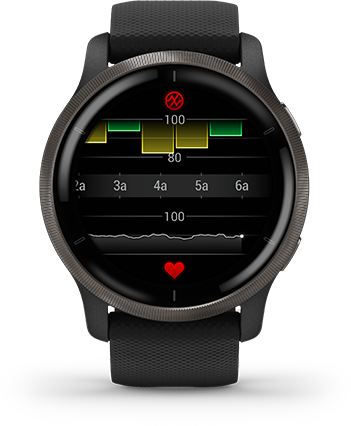 STRESS TRACKING
Find out if you're having a calm, balanced or stressful day. Relax reminders will even prompt you to do a short breathing activity when the watch detects that you're feeling stressed.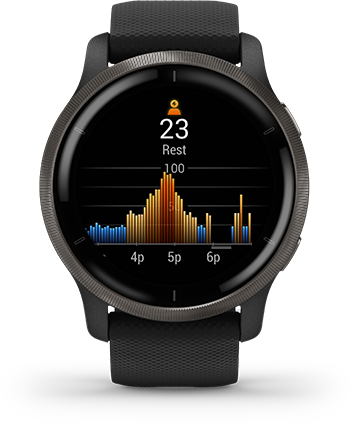 WOMEN'S HEALTH TRACKING
Use the Garmin Connect app to track your menstrual cycle or pregnancy. Log symptoms, get exercise and nutrition education and more. Even see and log details on your wrist with the Women's Health Tracking app.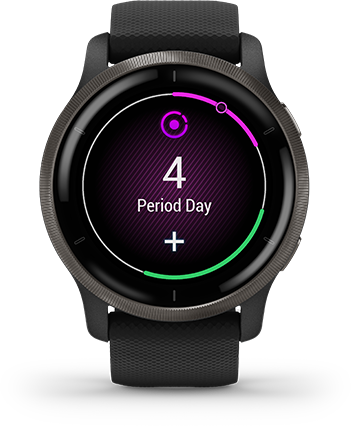 HYDRATION TRACKING
Log your daily fluid intake as a reminder to stay hydrated. You can even have an auto goal for hydration that adjusts based on how much you sweat during activities.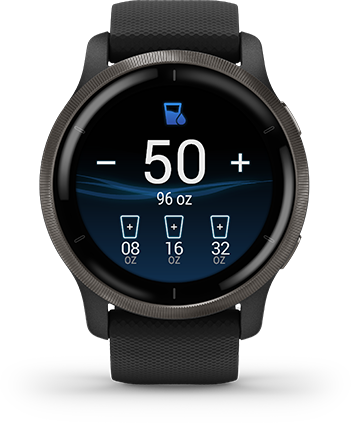 RESPIRATION TRACKING
See how you're breathing throughout the day, during sleep and during breathwork and yoga activities.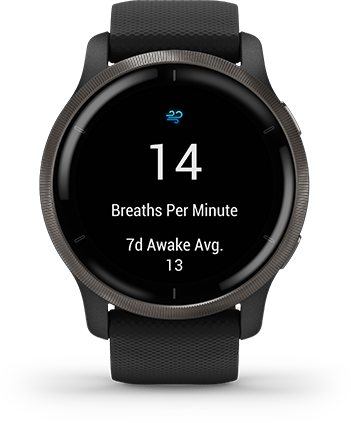 SLEEP SCORE AND ADVANCED SLEEP MONITORING
Get a score for your sleep's quality and insights on how you can do better. Even keep track of the different sleep stages as well as heart rate, stress, Pulse Ox3 and respiration.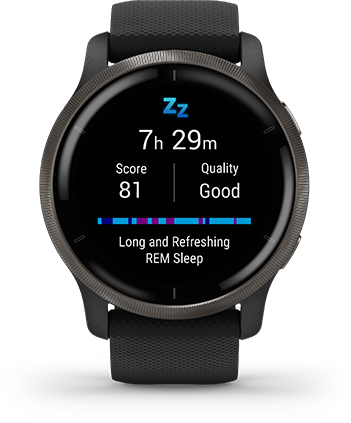 WRIST-BASED HEART RATE
The watch constantly samples your heart rate2 and will alert you if it stays too high or too low while you're at rest. It also helps gauge how hard you work during activities — even while swimming.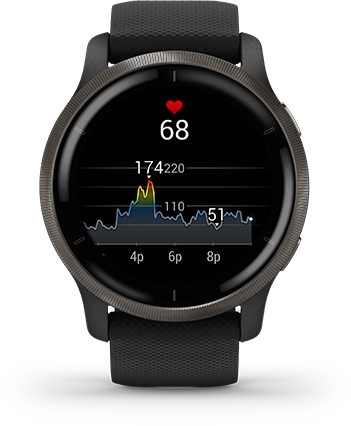 MINDFUL BREATHING
When you want to relax or focus, you can start a breathwork activity, and this watch will track your stress and respiration to help you get a better understanding of how you're breathing.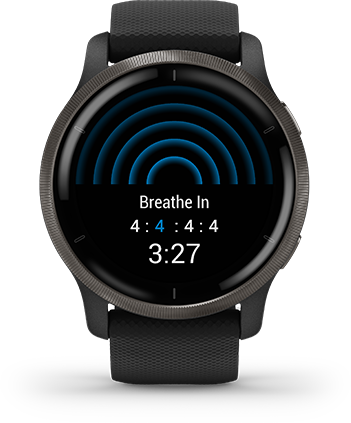 FITNESS AGE
This feature uses chronological age, your weekly vigorous activity, resting heart rate and BMI or body fat percentage4 to estimate if your body is younger or older than you are. And you can get tips to lower your fitness age.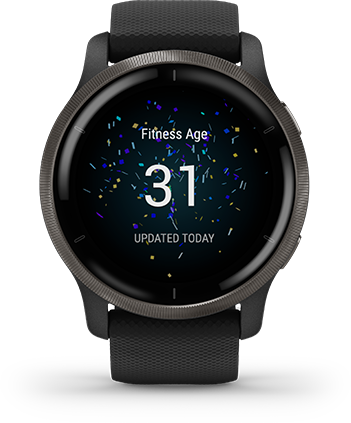 ANIMATED, ON-SCREEN WORKOUTS
Easy-to-follow, animated cardio, strength, yoga, Pilates and high-intensity interval training (HIIT) workouts come preloaded on the watch, and you can download more from the Garmin Connect app.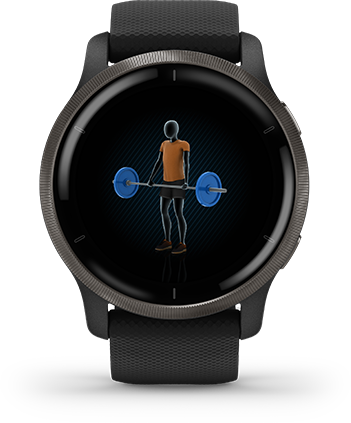 BUILT-IN SPORTS APPS
Track all the ways you move with more than 25 preloaded GPS and indoor sports apps — including walking, running, cycling, pool swimming, golf and more.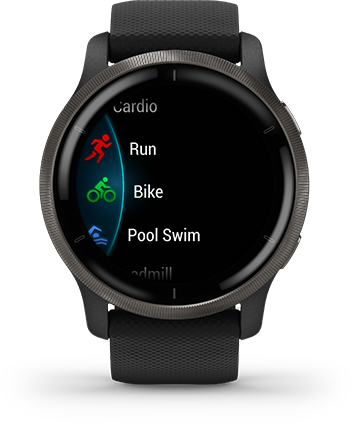 ADVANCED STRENGTH TRAINING
This detailed activity profile puts scaling and strength PRs right at your wrist plus graphics that show what muscle groups you worked.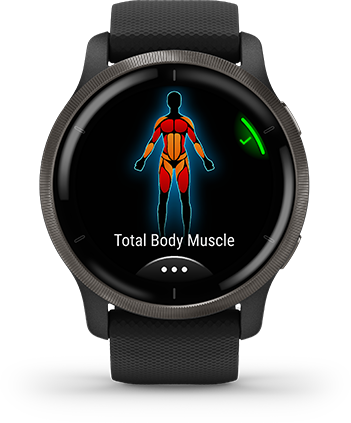 HIIT WORKOUTS
Use this new activity profile with different timers to track your HIIT workouts, including AMRAP, EMOM, Tabata and custom. Set the number of rounds, work/rest intervals and more.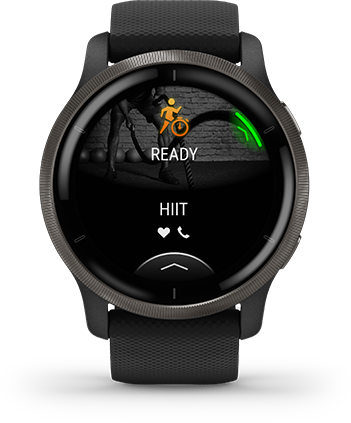 CREATE WORKOUTS
Choose from more than 1,400 exercises to build your own workouts in the Garmin Connect app on your compatible smartphone. Then download them to the watch.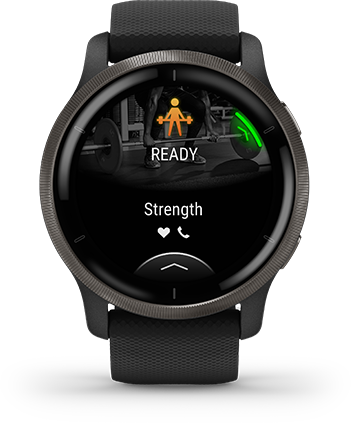 GARMIN COACH
Get a personal running coach on your wrist, for free, to help you train for your next 5K, 10K or half-marathon.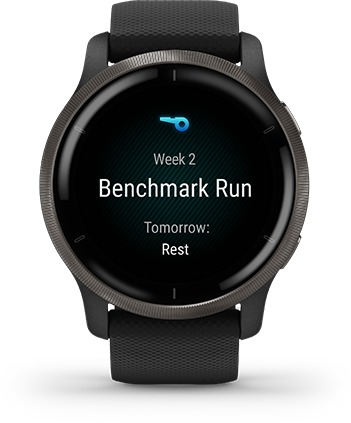 INTENSITY MINUTES
We've updated our intensity minutes feature to give you a better idea of when during the day you earned them and during what activity. You can even view them as a data field during timed activities.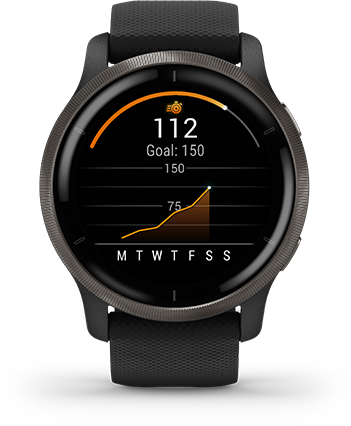 We're making it easy to stay connected.
Receive emails, texts and alerts right on your watch when paired with your compatible smartphone. You can even respond to texts if you have an Android™ phone.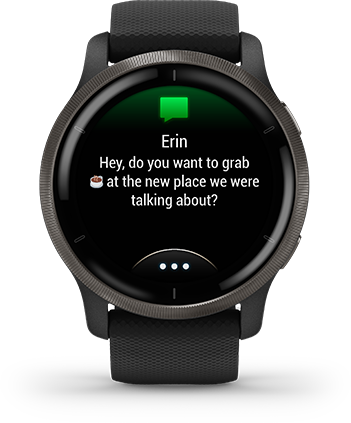 MUSIC
Download songs plus playlists from your Spotify, Deezer or Amazon Music accounts (subscription may be required). Use wireless headphones (sold separately) for phone-free listening.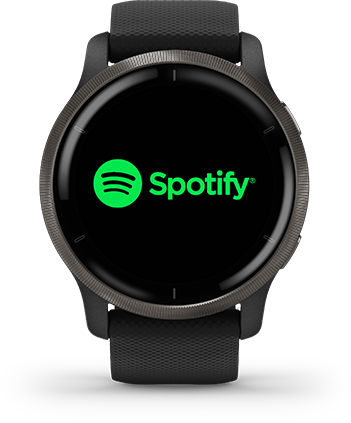 SAFETY AND TRACKING FEATURES
When your watch and phone are paired, your live location can be sent to your contacts manually or — during select outdoor activities — automatically with built-in incident detection5.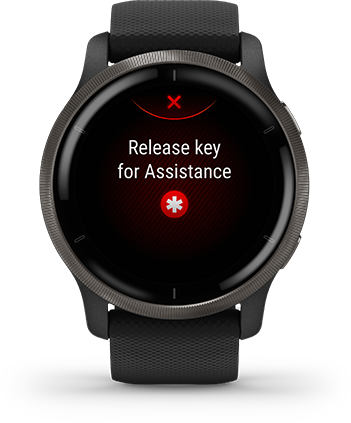 GARMIN PAY™
Breeze through checkout lines and select transit systems with Garmin Pay contactless payment solution1 through participating providers.
CONNECT IQ™ STORE
Download custom watch faces, add data fields and get apps from the Connect IQ Store.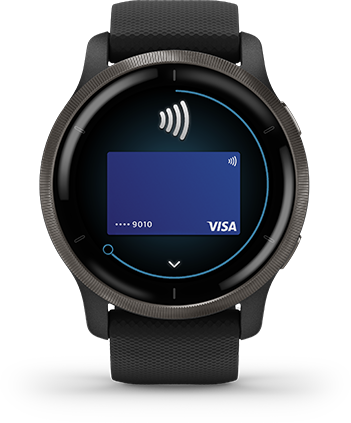 SYNC WITH GARMIN CONNECT
See your health and fitness information all in one place. The Garmin Connect app is a thriving online community where people on the go can connect, compete and share.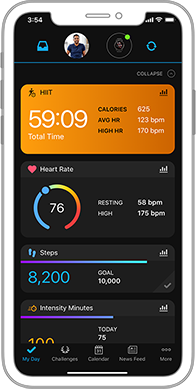 Wear it all day and anywhere.
BATTERY LIFE WITH RAPID RECHARGING
Get an uninterrupted picture of your health with up to 11 days in smartwatch mode, up to 22 hours in GPS mode and up to 8 hours in GPS mode with music. Ten minutes of charging adds up to 1 day of smartwatch mode battery life or 1 hour of GPS with music battery life.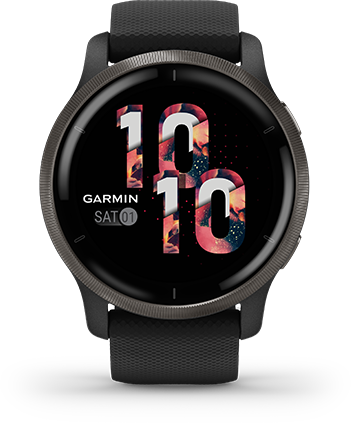 BATTERY SAVER MODE
Get even more juice from your smartwatch by adjusting the settings that impact battery life the most.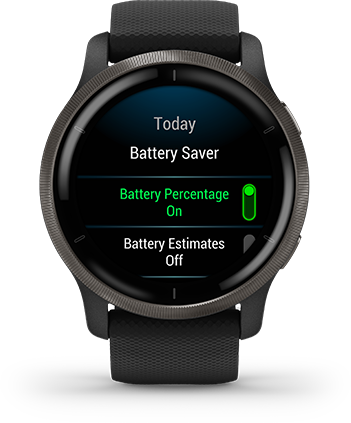 WATER RATING
This watch is water-rated to 5 ATM, making it perfect for a swim, shower or spa day.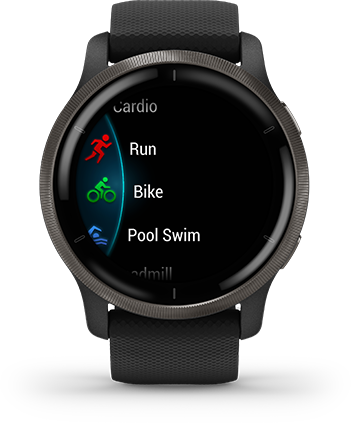 GENERAL

LENS MATERIAL
Corning® Gorilla® Glass 3
BEZEL MATERIAL
stainless steel
CASE MATERIAL
fiber-reinforced polymer
QUICK RELEASE BANDS
yes (22 mm, Industry standard)
STRAP MATERIAL
silicone
PHYSICAL SIZE
45.4 x 45.4 x 12.2 mm Fits wrists with a circumference of 135-200 mm
TOUCHSCREEN
Yes
COLOR DISPLAY
Yes
DISPLAY SIZE
1.3" (33.0 mm) diameter
DISPLAY RESOLUTION
416 x 416 pixels
DISPLAY TYPE
AMOLED optional always-on mode
WEIGHT
49.0 g
BATTERY LIFE
Smartwatch mode: Up to 11 days Battery saver smartwatch mode: Up to 12 days GPS mode with music: Up to 8 hours GPS mode without music: Up to 22 hours See details
WATER RATING
5 ATM
MEMORY/HISTORY
200 hours of activity data
CLOCK FEATURES

TIME/DATE
Yes
GPS TIME SYNC
Yes
AUTOMATIC DAYLIGHT SAVING TIME
Yes
ALARM CLOCK
Yes
TIMER
Yes
STOPWATCH
Yes
SUNRISE/SUNSET TIMES
Yes
HEALTH MONITORING

WRIST-BASED HEART RATE (CONSTANT, EVERY SECOND)
Yes
DAILY RESTING HEART RATE
Yes
ABNORMAL HEART RATE ALERTS
yes (high and low)
RESPIRATION RATE (24X7)
Yes
PULSE OX BLOOD OXYGEN SATURATION
yes (spot-check, and optionally all-day and in sleep)
FITNESS AGE
Yes
BODY BATTERY™ ENERGY MONITOR
Yes
ALL-DAY STRESS
Yes
RELAXATION REMINDERS
Yes
RELAXATION BREATHING TIMER
Yes
SLEEP
yes (Advanced)
SLEEP SCORE AND INSIGHTS
Yes
HYDRATION
Yes
WOMEN'S HEALTH
Yes
HEALTH SNAPSHOT
Yes
SENSORS

GPS
Yes
GLONASS
Yes
GALILEO
Yes
GARMIN ELEVATE™ WRIST HEART RATE MONITOR
Yes
BAROMETRIC ALTIMETER
Yes
COMPASS
Yes
GYROSCOPE
Yes
ACCELEROMETER
Yes
THERMOMETER
Yes
AMBIENT LIGHT SENSOR
Yes
PULSE OX BLOOD OXYGEN SATURATION MONITOR
Yes
DAILY SMART FEATURES

CONNECTIVITY
Bluetooth®, ANT+®, Wi-Fi®
CONNECT IQ™ (DOWNLOADABLE WATCH FACES, DATA FIELDS, WIDGETS AND APPS)
Yes
SMART NOTIFICATIONS
Yes
TEXT RESPONSE/REJECT PHONE CALL WITH TEXT (ANDROID™ ONLY)
Yes
CALENDAR
Yes
WEATHER
Yes
CONTROLS SMARTPHONE MUSIC
Yes
PLAYS AND CONTROLS WATCH MUSIC
Yes
MUSIC STORAGE
Yes (up to 650 songs)
FIND MY PHONE
Yes
FIND MY WATCH
Yes
SMARTPHONE COMPATIBILITY
iPhone®, Android™
PAIRS WITH GARMIN CONNECT™ MOBILE
Yes
GARMIN PAY™
Yes
SAFETY AND TRACKING FEATURES

LIVETRACK
Yes
INCIDENT DETECTION DURING SELECT ACTIVITIES
Yes
ASSISTANCE
Yes
ACTIVITY TRACKING FEATURES

STEP COUNTER
Yes
MOVE BAR (DISPLAYS ON DEVICE AFTER A PERIOD OF INACTIVITY; WALK FOR A COUPLE OF MINUTES TO RESET IT)
Yes
AUTO GOAL (LEARNS YOUR ACTIVITY LEVEL AND ASSIGNS A DAILY STEP GOAL)
Yes
CALORIES BURNED
Yes
FLOORS CLIMBED
Yes
DISTANCE TRAVELED
Yes
INTENSITY MINUTES
Yes
TRUEUP™
Yes
MOVE IQ™
Yes
GARMIN CONNECT™ CHALLENGES APP
Yes
GYM & FITNESS EQUIPMENT

AVAILABLE GYM ACTIVITY PROFILES
Strength, Cardio, HIIT and Elliptical Training, Stair Stepping, Floor Climbing, Indoor Rowing, Yoga, Pilates and Breathwork
CARDIO WORKOUTS
Yes
STRENGTH WORKOUTS
Yes
HIIT WORKOUTS
Yes
YOGA WORKOUTS
Yes
PILATES WORKOUTS
Yes
ON-SCREEN WORKOUT ANIMATIONS
Yes
ON-SCREEN WORKOUT MUSCLE MAPS
Yes
AUTOMATIC REP COUNTING
Yes
TRAINING, PLANNING AND ANALYSIS FEATURES

HR ZONES
Yes
HR ALERTS
Yes
HR CALORIES
Yes
% HR MAX
Yes
HR BROADCAST (BROADCASTS HR DATA OVER ANT+™ TO PAIRED DEVICES)
Yes
RESPIRATION RATE (DURING EXERCISE)
Yoga and Breathwork only
GPS SPEED AND DISTANCE
Yes
CUSTOMIZABLE DATA PAGES
Yes
CUSTOMIZABLE ACTIVITY PROFILES
Yes
AUTO PAUSE®
Yes
ADVANCED WORKOUTS
Yes
DOWNLOADABLE TRAINING PLANS
Yes
AUTO LAP®
Yes
MANUAL LAP
Yes
VO2 MAX (RUN)
Yes
TOUCH AND/OR BUTTON LOCK
Yes
AUTO SCROLL
Yes
ACTIVITY HISTORY ON WATCH
Yes
PHYSIO TRUEUP
Yes
RUNNING FEATURES

AVAILABLE RUN PROFILES
Running, Indoor Track Running, Treadmill Running
GPS-BASED DISTANCE, TIME AND PACE
Yes
CADENCE (PROVIDES REAL-TIME NUMBER OF STEPS PER MINUTE)
Yes
RUN WORKOUTS
Yes
FOOT POD CAPABLE
Yes
GOLFING FEATURES

YARDAGE TO F/M/B (DISTANCE TO FRONT, MIDDLE AND BACK OF GREEN)
Yes
YARDAGE TO LAYUPS/DOGLEGS
Yes
MEASURES SHOT DISTANCE (CALCULATES EXACT YARDAGE FOR SHOTS FROM ANYWHERE ON COURSE)
Automatic
DIGITAL SCORECARD
Yes
STAT TRACKING (STROKES, PUTTS PER ROUND, GREENS AND FAIRWAYS HIT)
Yes
GARMIN AUTOSHOT™
Yes
GREEN VIEW WITH MANUAL PIN POSITION
Yes
HAZARDS AND COURSE TARGETS
Yes
PINPOINTER
Yes
ROUND TIMER/ODOMETER
Yes
AUTOMATIC CLUB TRACKING COMPATIBLE (REQUIRES ACCESSORY)
Yes
OUTDOOR RECREATION

AVAILABLE OUTDOOR RECREATION PROFILES
Hiking, Indoor Climbing, Bouldering, Skiing, Snowboarding, XC Skiing, Stand Up Paddleboarding, Rowing
BACK TO START
Yes
TOTAL ASCENT/DESCENT
Yes
AREA CALCULATION
yes (via Connect IQ™)
HUNT/FISH CALENDAR
yes (via Connect IQ™)
SUN AND MOON INFORMATION
yes (via Connect IQ™)
CYCLING FEATURES

ALERTS (TRIGGERS ALARM WHEN YOU REACH GOALS INCLUDING TIME, DISTANCE, HEART RATE OR CALORIES)
Yes
AVAILABLE CYCLING PROFILES
Biking, Indoor Biking
COMPATIBLE WITH VARIA™ RADAR (REAR-FACING RADAR)
Yes
COMPATIBLE WITH VARIA™ LIGHTS
Yes
SPEED AND CADENCE SENSOR SUPPORT (W/SENSOR)
Yes
SWIMMING FEATURES

AVAILABLE SWIM PROFILES
Pool Swimming
POOL SWIM METRICS (LENGTHS, DISTANCE, PACE, STROKE COUNT, SWIM EFFICIENCY (SWOLF), CALORIES)
Yes
STROKE TYPE DETECTION (FREESTYLE, BACKSTROKE, BREASTSTROKE, BUTTERFLY) (POOL SWIM ONLY)
Yes
BASIC REST TIMER (UP FROM 0) (POOL SWIM ONLY)
Yes
TIME AND DISTANCE ALERTS
Yes
UNDERWATER WRIST-BASED HEART RATE
Yes
KID ACTIVITY TRACKING FEATURES

TOE-TO-TOE™ CHALLENGES APP
yes (optional Connect IQ app)
Only logged in customers who have purchased this product may leave a review.