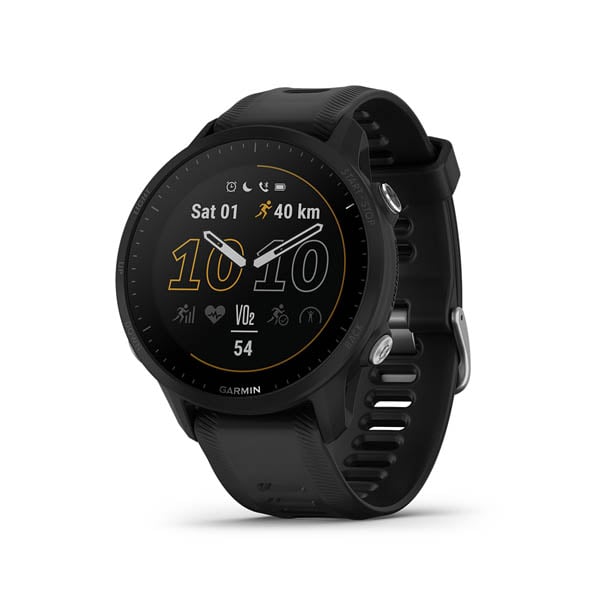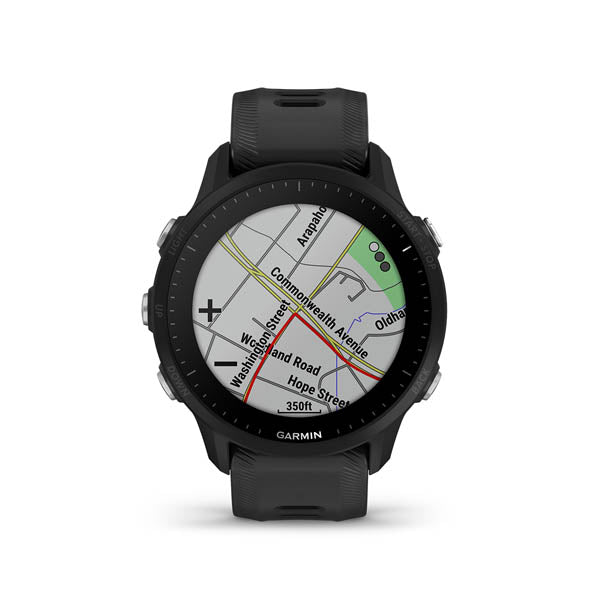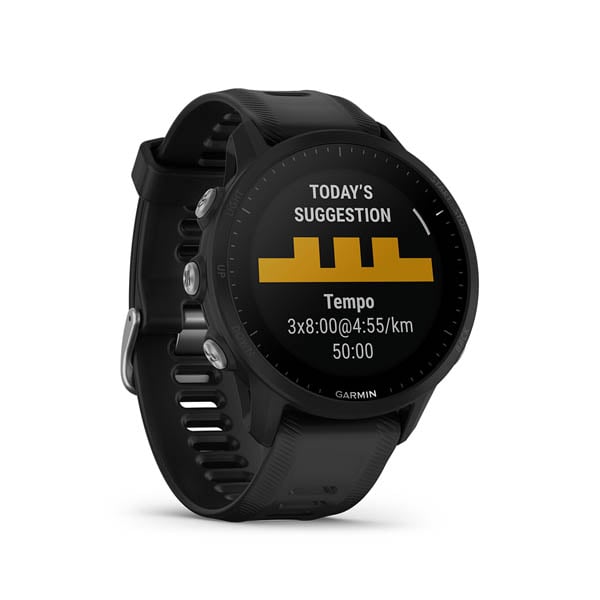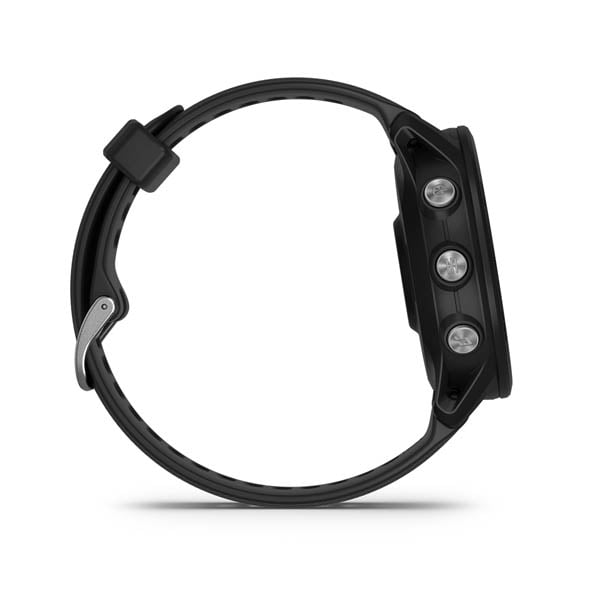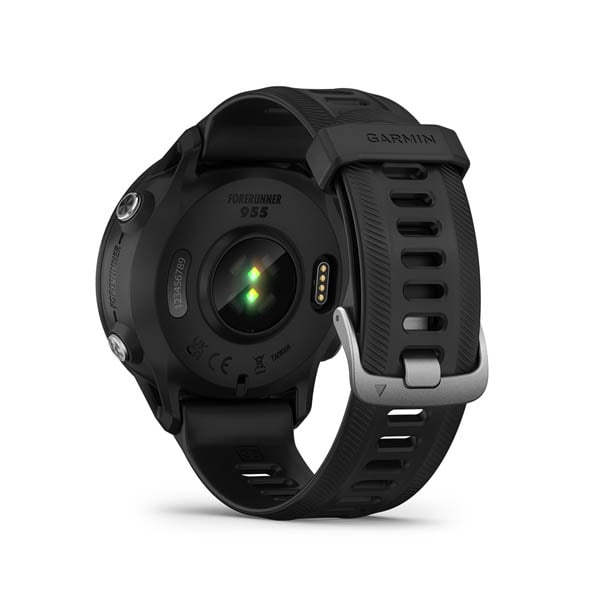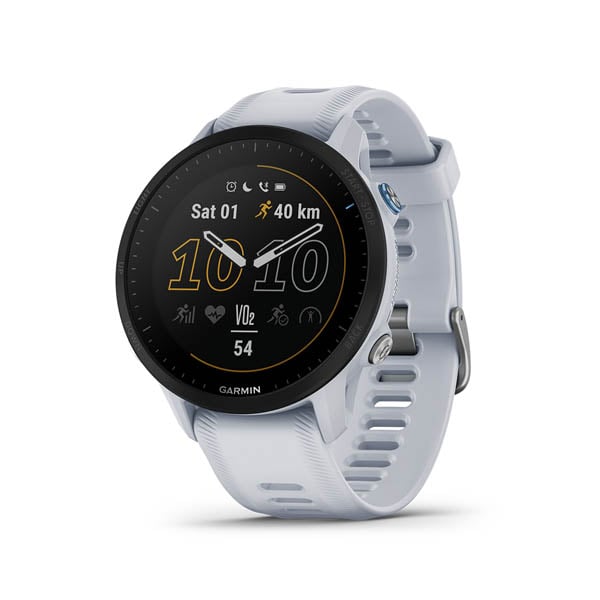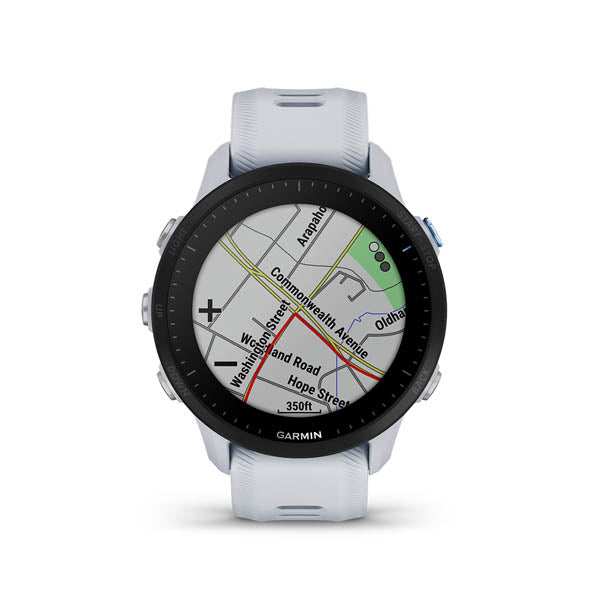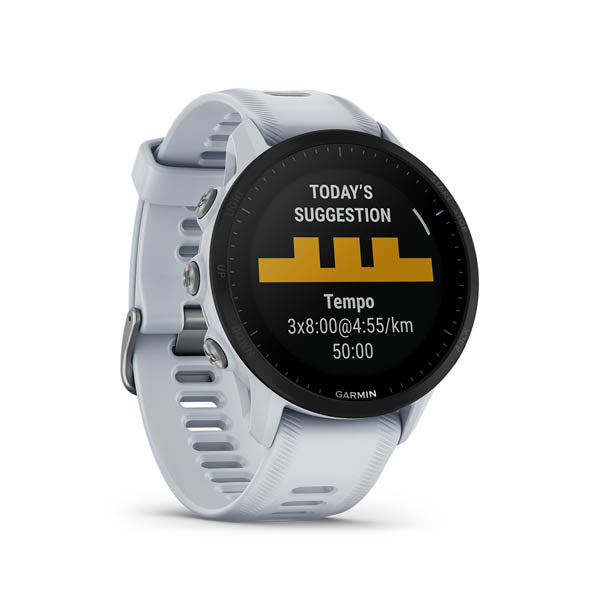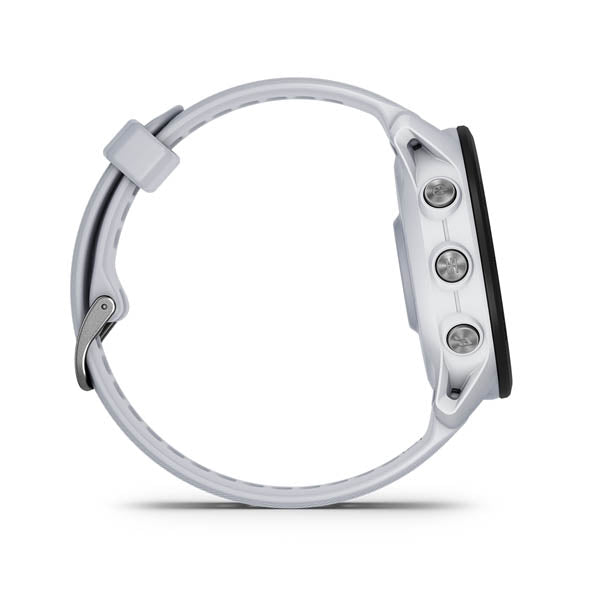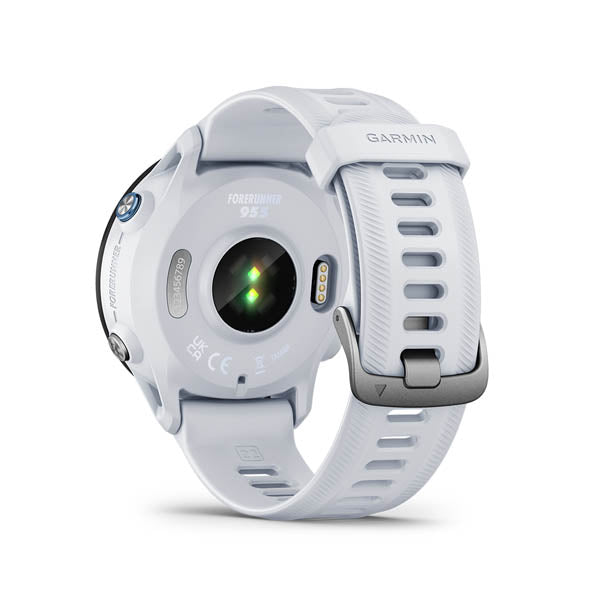 Garmin Forerunner 955 Non-Solar
---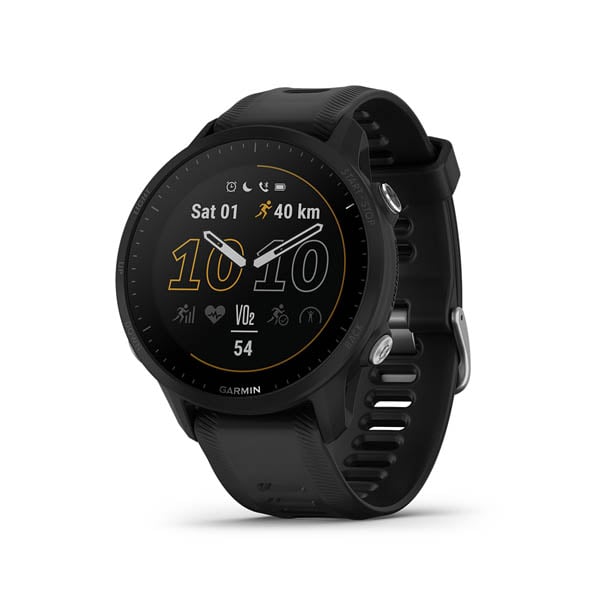 LEAD THE PACK
Pushing toward the podium? Get this lightweight smartwatch on your wrist. Train your best, perform your best, and put yourself in the running at your next race.
Get up to 15 days of battery life in smartwatch mode for a full picture of your health — from sleep to training.
Swipe through stats and maps with a new, responsive touchscreen.
Confidently run any route using multi-band GPS.
Know when you're primed for a productive session with training readiness.
Plan your strategy with daily suggested workouts, course details and more on the race widget.
Know if your undertraining or overdoing it, with an improved training status feature.
EXTENDED BATTERY LIFE
Get up to 15 days of battery life in smartwatch mode. In GPS mode, get up to 42 hours. And in UltraTrac mode, go even longer with up to 80 hours.
TOUCHSCREEN AND BUTTONS
Click or swipe through maps and stats with traditional button controls or a new, responsive touchscreen.
TAILORED TO THE DEDICATED
Clocking in at just 52 grams, the Forerunner 955 smartwatch will keep you light on your feet and attuned to your body.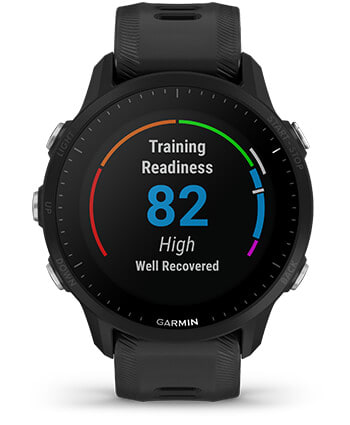 TRAINING READINESS
From the moment you wake up, get a readiness score based on your sleep quality, recovery, training load and more, so you can determine whether it's a good day to go hard — or take it easy.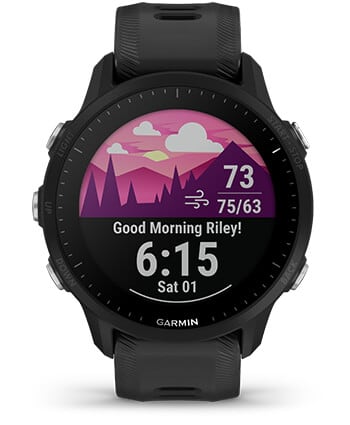 MORNING REPORT
Receive an overview of your sleep, recovery and training outlook as soon as you wake up — alongside HRV status, training readiness and weather. You can even customize your report to show what you want to see.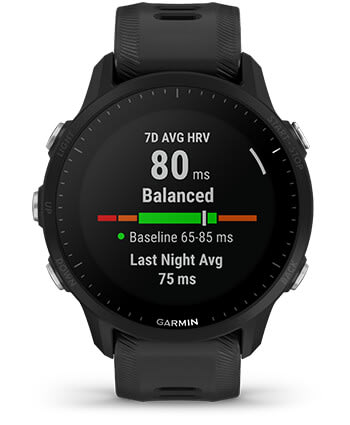 HRV STATUS
Gain a deeper understanding of your overall health, training and recovery through heart rate variability while you sleep, based on technology developed by our Firstbeat Analytics team.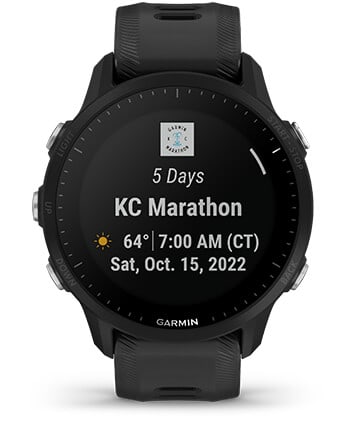 RACE WIDGET
Get ready for your next race with training tips, personalized daily suggested workouts and completion time predictions based on course details, weather and performance.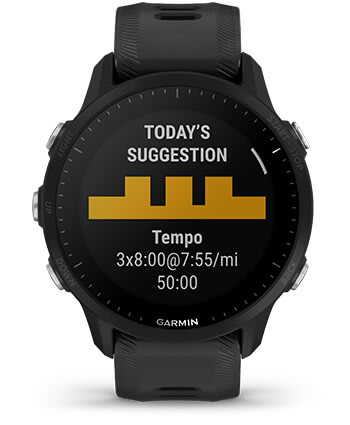 DAILY SUGGESTED WORKOUTS
View your entire week of daily suggested workouts, which adapt after every run to match your performance and recovery as well as the races coming up in your Garmin Connect smartphone app calendar.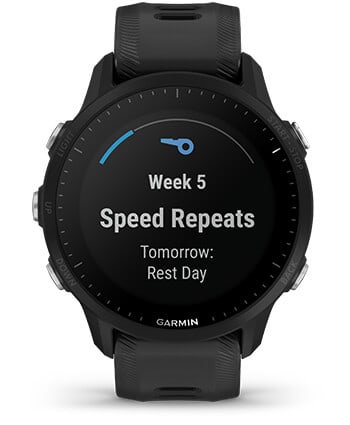 GARMIN COACH
Free adaptive training plans include 5K, 10K and half-marathon programs, featuring guidance from expert coaches that adapt to you and your goals.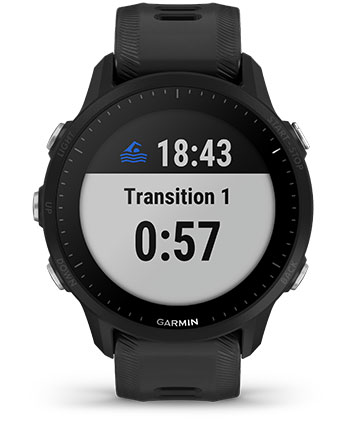 TRIATHLON AND MULTISPORT PROFILES
Switch between sports with one press by using built-in profiles for triathlons, duathlons, brick workouts and swimruns. Or, create your own custom multisport profiles.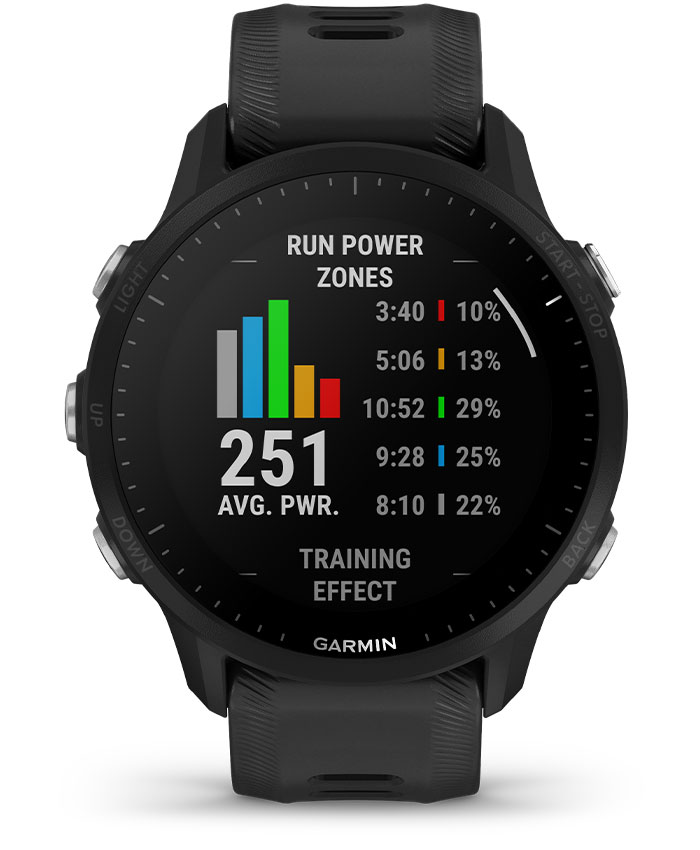 WRIST-BASED RUNNING POWER
See how much power you're applying to the trail or the road so you can manage your effort and fine-tune your training. No accessory required.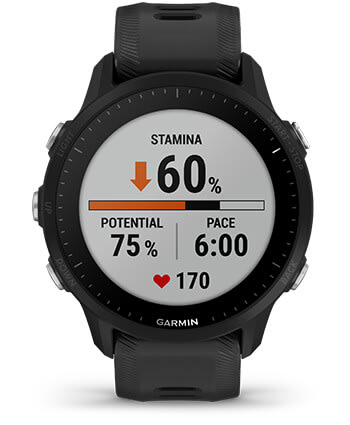 REAL-TIME STAMINA
Use this data to track and manage your exertion — and help avoid overexerting at the start of your run or bike ride.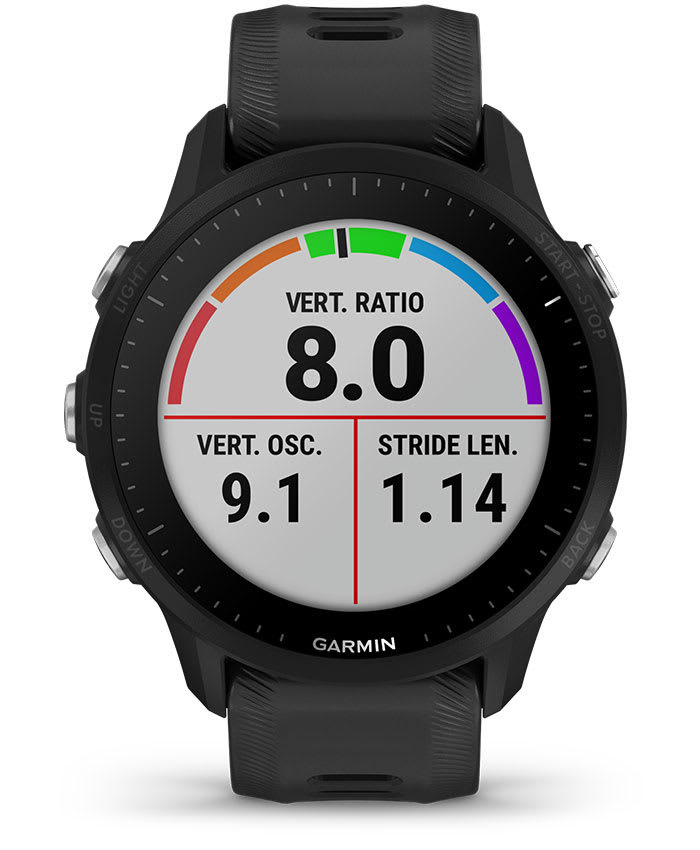 WRIST-BASED RUNNING DYNAMICS
This smartwatch measures crucial running metrics such as cadence, stride length, ground contact time and more.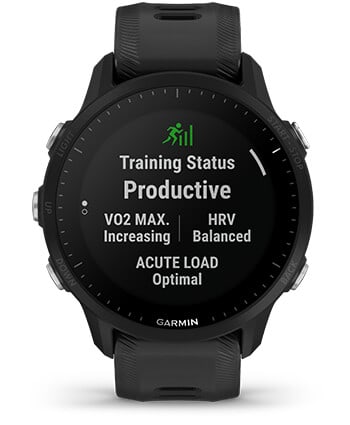 TRAINING STATUS
Using new indicators such as HRV status, your recent exercise history and performance, get an easy insight into your overall effort — and whether you're training productively, peaking or strained.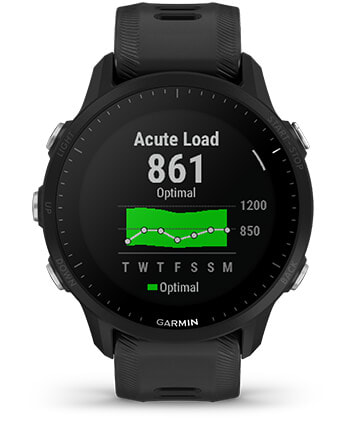 ACUTE LOAD
Compare the intensity of your recent workouts to the optimal range to help improve your fitness and see your training history.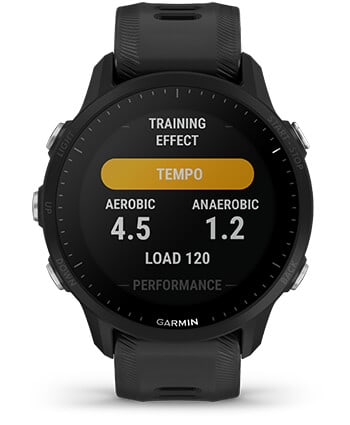 TRAINING EFFECT
See how your workouts influence your endurance, speed and power with aerobic and anaerobic training effect feedback.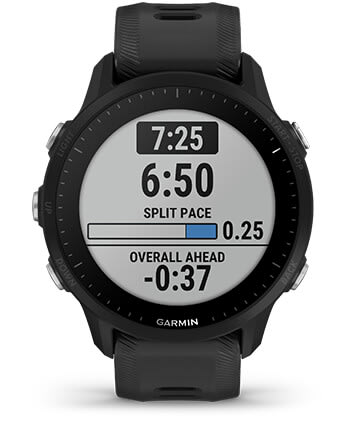 PACEPRO FEATURE
The PacePro feature helps keep you on pace with grade-adjusted guidance as you run a course.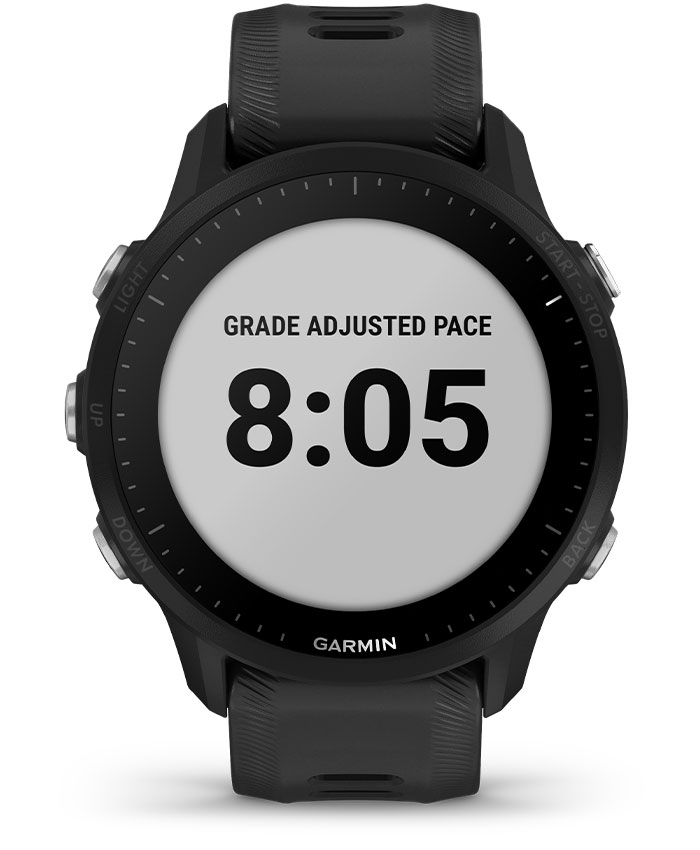 GRADE-ADJUSTED PACE
Don't run out of steam before the activity is over. Understand how to adjust your pace over varying terrain to perform according to your plan.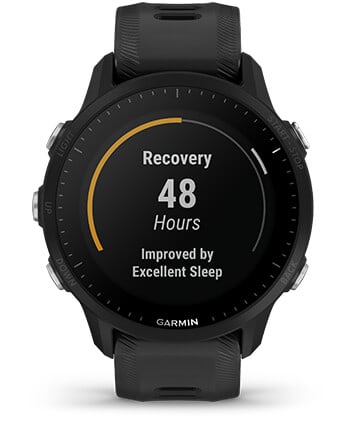 RECOVERY TIME
Know how long to recover before your next high-effort workout based on your latest training as well as overall stress, sleep and daily activities outside of workouts.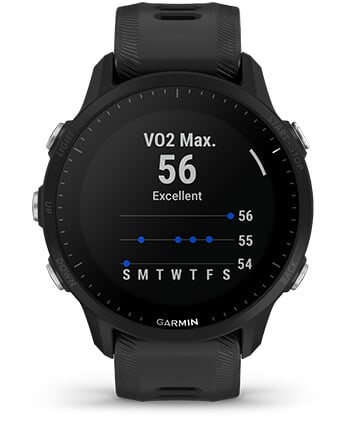 VO2 MAX
Train smarter with VO2 max, an indicator of how you can expect to perform. This metric even accounts for changes in performance that could be caused by heat or altitude.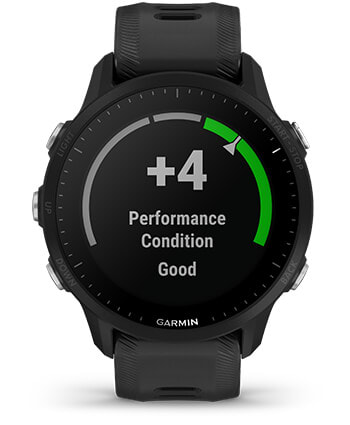 PERFORMANCE CONDITION
While you run, get an analysis of your pace, heart rate and heart rate variability for a real-time assessment of your current ability to perform.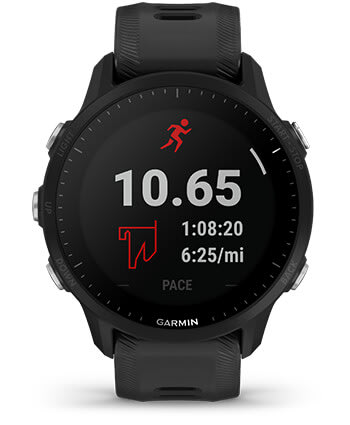 SYNC TRAINING PLANS
Get your indoor and outdoor training plans from the Garmin Connect app, or sync seamlessly to your Forerunner smartwatch from other platforms, including TrainingPeaks and more.
BUILT-IN SPORTS APPS
Switch up your workouts with activity profiles for cycling, triathlon, pool and open-water swimming, track running and more. For races and brick workouts, switch sports with a single button press.
TRACK RUNNING
Ready for some speedwork? Input your lane on the built-in track run activity to record accurate lap distances and see your distances in meters.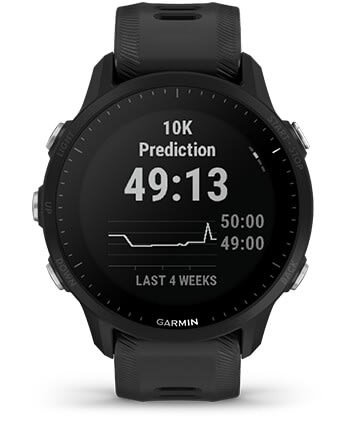 VISUAL RACE PREDICTOR
Based on your running history and overall fitness level, get an estimate of what your pace could be for a 5K, 10K — or even a marathon. Plus, trend data highlights your training's impact over time.
Go the distance. Know the distance.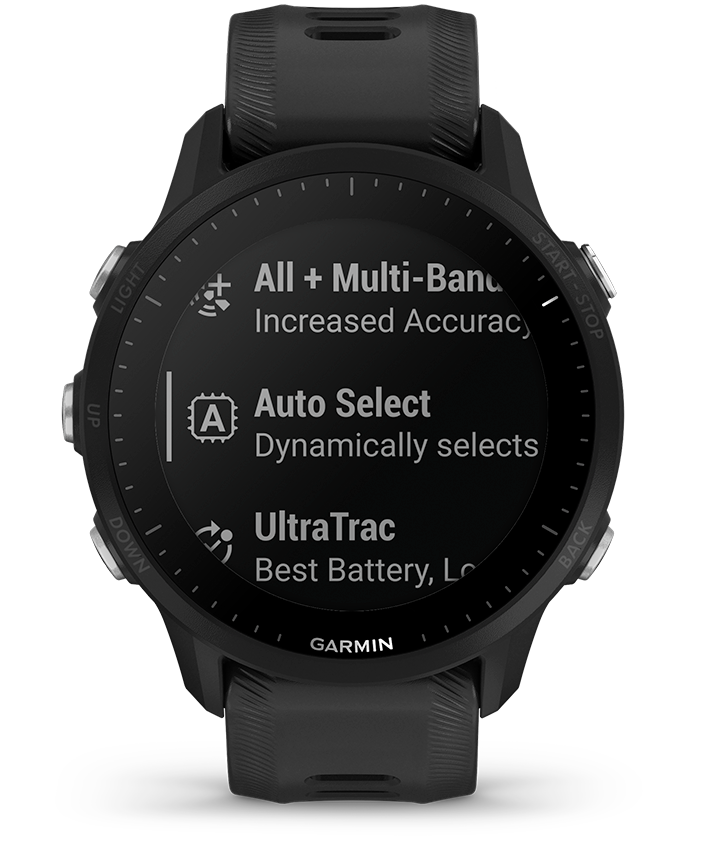 SATIQ TECHNOLOGY AND MULTI-BAND GPS
Get superior positioning accuracy and optimized battery life.
TURN-BY-TURN NAVIGATION
Follow a course with help from turn-by-turn directions, which let you know ahead of time when the next turn is coming.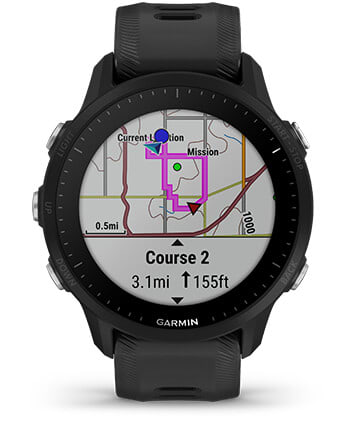 ROUND-TRIP ROUTING
With Trendline popularity routing, it's easy to find the best local paths. Just enter a desired distance, and Forerunner 955 will suggest courses that bring you back to your starting point.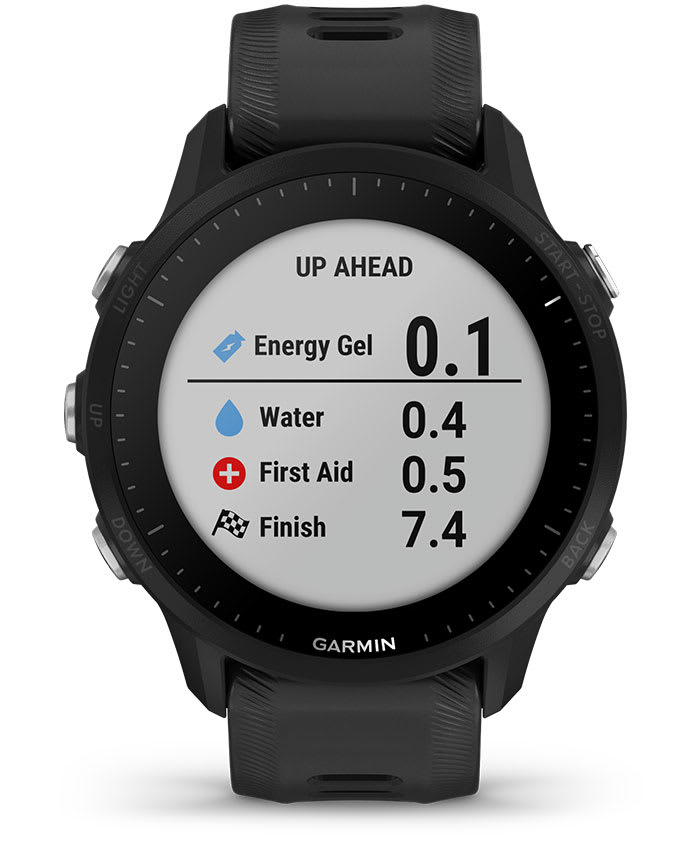 UP AHEAD
Get at-a-glance awareness for points of interest along the course. In addition, view performance metrics, split times and distance/elevation — plus a summary of key course points coming up.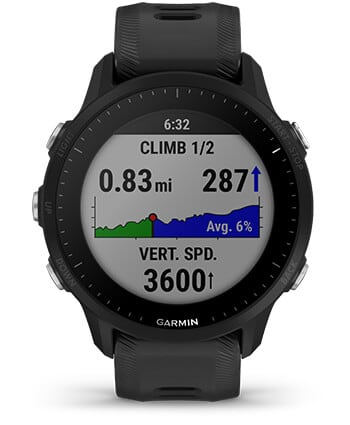 CLIMBPRO FEATURE
Use ClimbPro ascent planner on downloaded courses to see real-time information on your current and upcoming climbs, including gradient, distance and elevation gain.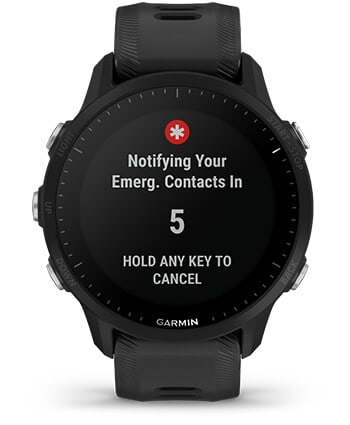 SAFETY AND TRACKING FEATURES
If you feel unsafe or if your watch senses that an incident occurred, Assistance and incident detection features1 send your location to emergency contacts. Incident detection is enabled by default for select activity profiles only.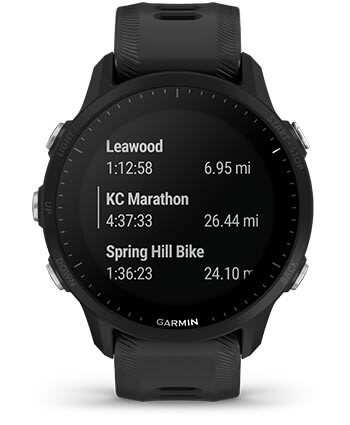 COURSES
Create or find existing courses in our Garmin Connect app, so you'll never run out of places to run. Or plan one on other platforms such as Strava and Komoot, then automatically sync them to your Forerunner smartwatch.
Be in touch with your body.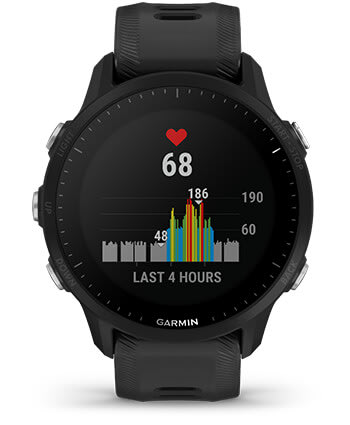 WRIST-BASED HEART RATE
The watch constantly samples your heart rate2 with our latest-generation heart rate sensor and will alert you if it stays too high or too low while you're at rest. It also helps gauge how hard you work during activities — even while swimming.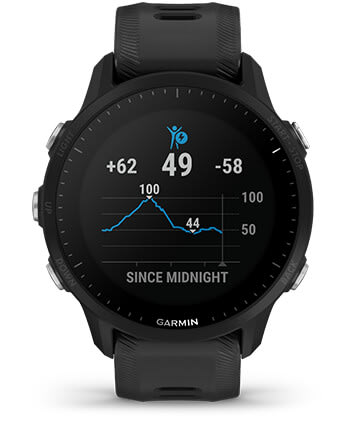 BODY BATTERY ENERGY MONITORING
Track your body's energy levels so you can find the best times for activity and rest2.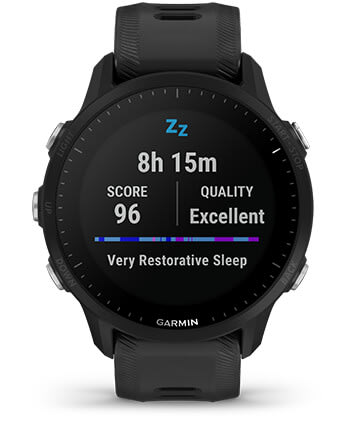 SLEEP SCORE AND ADVANCED SLEEP MONITORING
Get a score for your sleep's quality and insights on how you can do better. Even keep track of the different sleep stages as well as heart rate, stress, Pulse Ox3 and respiration.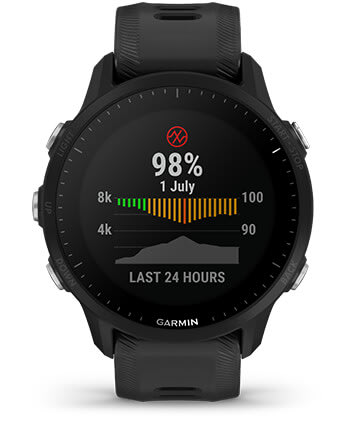 PULSE OX SENSOR
This wrist-based Pulse Ox sensor3 monitors blood oxygen saturation levels to support advanced sleep monitoring and altitude acclimation.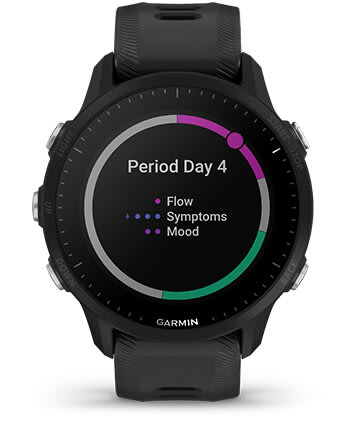 WOMEN'S HEALTH TRACKING
Use the Garmin Connect app to track your menstrual cycle or pregnancy. Log symptoms, get exercise and nutrition education, and more. Even see and log details on your wrist with the Women's Health Tracking app.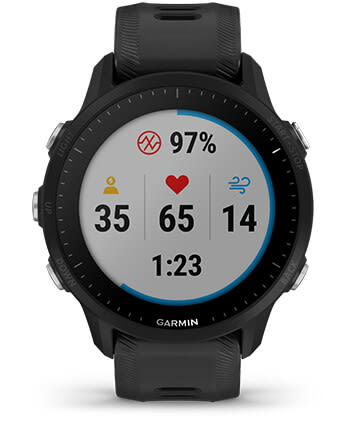 HEALTH SNAPSHOT FEATURE
Log a 2-minute session to record key stats, including heart rate2, heart rate variability, Pulse Ox3, respiration and stress. Then generate a report with those stats to share via the Garmin Connect app on your compatible smartphone.
Stay connected while you're breaking records.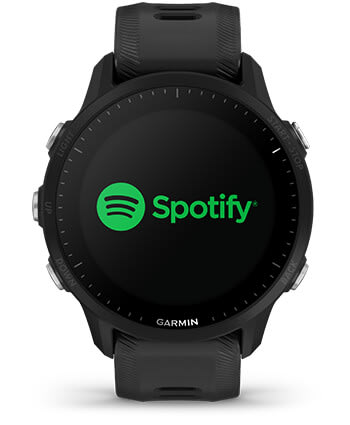 MUSIC ON YOUR WRIST
Download up to 2,000 songs plus playlists from your Spotify, Deezer or Amazon music accounts (subscription may be required).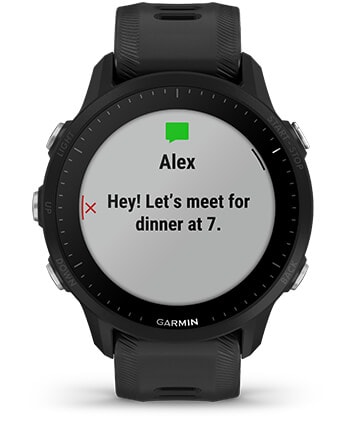 SMART NOTIFICATIONS
Receive emails, texts and alerts right on your watch, when paired with your Apple or Android smartphone. You can even respond to texts if you have an Android phone.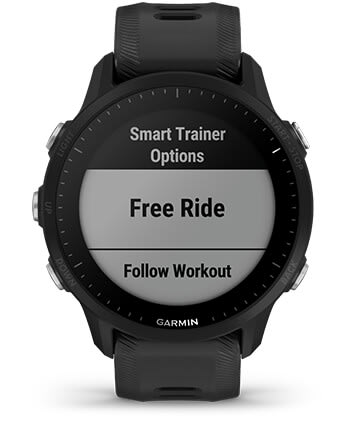 SMART TRAINER CONTROL
Control your Tacx Smart trainer via ANT+ technology for course simulation, automatic resistance changes and workout prompts when you use courses or workouts from your watch.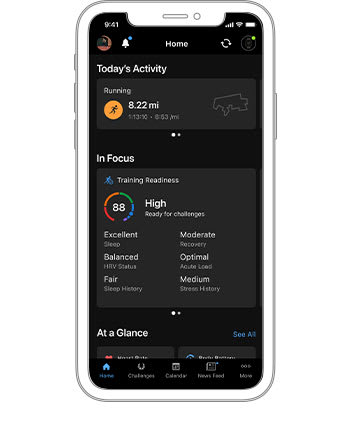 GARMIN CONNECT APP
See your health and fitness information, connect and compete with friends, sign up for challenges to earn badges and more — all in one free, zero-subscription app.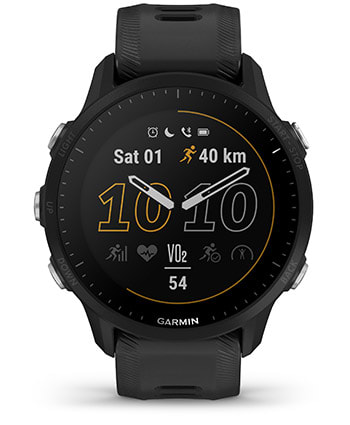 CONNECT IQ STORE
Download custom watch faces, add data fields, and get apps or widgets from the Connect IQ Store app downloaded on your compatible smartphone.
Specification:
General

Lens Material
Corning® Gorilla® Glass DX
Bezel Material
fiber-reinforced polymer
QuickFit watch band compatible
yes (22 mm compatible)
Strap material
silicone
Physical size
46.5 x 46.5 x 14.4 (mm) Fits wrists with a circumference of 130-220 mm
Touchscreen
 
Color display
 
Display Size
1.3" (33 mm) diameter
Display resolution
260 x 260 pixels
Display Type
sunlight-visible, transflective memory-in-pixel (MIP)
Weight
52 g
Battery life
Smartwatch mode: Up to 15 days
GPS-only mode without music: Up to 42 hours
All-Systems GNSS mode plus Multi-Band with music: Up to 8.5 hours
All Systems GNSS mode plus Multi-Band without music: Up to 20 hours
Ultratrac mode: Up to 80 hours
Water rating
5 ATM
Memory/History
32 GB
Clock Features

Time/date
 
GPS Time Sync
 
Automatic daylight saving time
 
Alarm clock
 
Timer
 
Stopwatch
 
Sunrise/sunset times
 
Health Monitoring

Wrist-based Heart Rate (constant, every second)
 
Daily Resting Heart Rate
 
Abnormal Heart Rate Alerts
yes (high and low)
Respiration rate (24x7)
 
Pulse Ox Blood Oxygen Saturation
yes (spot-check, and optional all-day acclimation and in sleep)
Fitness Age
 
Body Battery Energy Monitor
 
All-day Stress
 
Relaxation reminders
 
Relaxation breathing timer
 
Sleep
yes (advanced)
Sleep score and insights
 
Hydration
yes (in Garmin Connect and optional Connect IQ widget)
Women's Health
yes (in Garmin Connect and optional Connect IQ widget)
Health snapshot
 
Sensors

GPS
 
GLONASS
 
Galileo
 
Multi-frequency Positioning
 
SATlQ TECHNOLOGY
 
Garmin Elevate wrist heart rate monitor
 
Barometric altimeter
 
Compass
 
Gyroscope
 
Accelerometer
 
Thermometer
 
Pulse Ox Blood Oxygen Saturation Monitor
 
Daily Smart Features

Connectivity
Bluetooth®, ANT+®, Wi-Fi®
Connect IQ (downloadable watch faces, data fields, widgets and apps)
 
On-device Connect IQ Store
 
Smart Notifications
 
Text response/reject phone call with text (Android only)
 
Calendar
 
Weather
 
Realtime settings sync with Garmin Connect mobile
 
Battery saver (customizable low power watch)
 
Controls smartphone music
 
Plays and controls watch music
 
Music storage
Up to 2000 songs
Find My Phone
 
Find My Watch
 
VIRB® Remote
 
Smartphone compatibility
iPhone®, Android
Pairs with Garmin Golf app
 
Pairs with Garmin Connect Mobile
 
Garmin Pay
 
Safety and Tracking Features

LiveTrack
 
Spectator messaging
yes (with compatible smartphone)
Group LiveTrack
 
Live Event Sharing
Android Only
Incident Detection during select activities
 
Assistance
 
Tactical Features

Dual grid coordinates
 
Activity Tracking Features

Step counter
 
Move bar (displays on device after a period of inactivity; walk for a couple of minutes to reset it)
 
Auto goal (learns your activity level and assigns a daily step goal)
 
Calories burned
 
Floors climbed
 
Distance traveled
 
Intensity minutes
 
TrueUp
 
Move IQ
 
Garmin Connect Challenges app
yes (optional Connect IQ app)
Gym & Fitness Equipment

Available gym activity profiles
Strength, HIIT, Cardio and Elliptical Training, Stair Stepping, Floor Climbing, Indoor Climbing, Bouldering, Indoor Rowing, Pilates, Yoga
Strength workouts
 
HIIT workouts
 
Yoga workouts
 
Pilates workouts
 
On-screen workout animations
 
On-screen workout muscle maps
 
Training, Planning and Analysis Features

HR zones
 
HR alerts
 
HR calories
 
% HR max
 
% HRR
 
Recovery time
 
Auto max HR
 
Morning report
 
Race glance/widget
 
HRV status
 
Training readiness
 
HR Broadcast (broadcasts HR data over ANT+ to paired devices)
 
Respiration rate (during exercise)
yes (with compatible accessory)
GPS speed and distance
 
Customizable data pages
 
Customizable activity profiles
 
Auto Pause®
 
Interval training
 
Improved interval (includes open repeats, intervals data page, rest screen and auto detection)
 
Advanced workouts
 
Downloadable training plans
 
Auto Lap®
 
Manual lap
 
Rest timer
 
Configurable lap alerts
 
Heat and altitude acclimation
 
VO2 Max (Run)
 
VO2 Max (Trail Run)
 
Realtime stamina
 
Training Status
improved
Training Load
 
Training load focus
 
Training Effect
 
Training Effect (anaerobic)
 
Primary benefit (Training Effect labels)
 
Improved recovery time
 
Daily suggested workouts
yes (7 days)
Custom alerts
 
Audio prompts
 
Finish time
 
Virtual Partner
 
Race an Activity
 
Auto multisport activities
 
Manual multisport activities
 
Course guidance
 
Garmin Live Segments
 
Strava Live Segments
 
Round-trip course creator (running/cycling) (This feature is only available in selected countries)
 
Trendline Popularity Routing (This feature is only available in selected countries)
 
Touch and/or button lock
 
Hot keys
 
Auto scroll
 
Activity history on watch
 
Physio TrueUp
 
Running Features

Available run profiles
Running, Outdoor Track Running, Treadmill Running, Indoor Track Running, Trail Running, Virtual Running, Ultra Running
GPS-based distance, time and pace
 
RUNNING DYNAMICS
yes (with compatible accessory)
Vertical oscillation and ratio
yes (with compatible accessory)
Ground contact time and balance
yes (with compatible accessory)
Stride length (real time)
yes (with compatible accessory)
Cadence (provides real-time number of steps per minute)
 
Running power
yes (with compatible accessory)
Performance condition
 
Lactate threshold
yes (with compatible accessory)
PacePro Pacing Strategies
 
Run workouts
 
Race predictor
 
Course- and weather-specific race predictor
 
Foot pod capable
 
Golfing Features

Preloaded with 42,000 courses worldwide
 
Yardage to F/M/B (distance to front, middle and back of green)
 
Yardage to layups/doglegs
 
Measures shot distance (calculates exact yardage for shots from anywhere on course)
automatic
Digital scorecard
 
Stat tracking (strokes, putts per round, greens and fairways hit)
 
Garmin AutoShot
 
Auto CourseView updates
 
Green View with manual pin position
 
Hazards and course targets
 
PinPointer
 
Handicap scoring
 
TruSwing compatible
 
Round timer/odometer
 
Tournament legal
 
Outdoor Recreation

Available outdoor recreation profiles
Hiking, Climbing, Skiing, Snowboarding, Backcountry Skiing, XC Classic Skiing, XC Skate Skiing, Stand Up Paddleboarding, Rowing, Kayaking, Snowshoeing, Mapping, Navigating, Tennis, Pickleball, Padel, Track Me, Project Waypoint
Point-to-point navigation (It only show in straight line.)
 
Bread crumb trail in real time
 
Back to start
 
TracBack®
 
UltraTrac mode
 
Around Me mode (This feature is only available in selected countries)
 
Up Ahead
 
Elevation profile
 
Distance to destination
 
Barometric trend indicator with Storm Alert
 
ClimbPro Ascent Planner
 
Trail run auto climb
 
Vertical speed
 
Total ascent/descent
 
Future elevation plot
 
Preloaded topographical maps (This feature is only available in selected countries)
 
Preloaded road and trail maps (This feature is only available in selected countries)
 
Downloadable cartography support
 
GPS coordinates
 
Sight 'N Go
 
Area calculation
yes (via Connect IQ)
Hunt/fish calendar
yes (via Connect IQ)
Projected waypoint (It only show in straight line.)
 
Sun and moon information
 
XERO Locations
 
Cycling Features

Cycle Map (routable cycling-specific street map) (This feature is only available in selected countries)
 
Available cycling profiles
Biking, Road Biking, Mountain Biking, Gravel Biking, Bike Commuting, Bike Touring, eBiking, eMountain Biking, Indoor Biking, Cyclocross
Alerts (triggers alarm when you reach goals including time, distance, heart rate or calories)
 
Courses
 
MTB Grit & Flow
 
Bike lap and lap maximum power (with power sensor)
 
Race an activity
 
FTP (Functional Threshold Power)
yes (with compatible accessory)
Compatible with Vector and Rally (power meters)
 
Power meter compatible
 
Advanced cycling dynamics
 
Compatible with Varia Vision (head-mounted display)
 
Compatible with Varia radar (rear-facing radar)
 
Compatible with Varia lights
 
Speed and cadence sensor support (w/sensor)
 
Swimming Features

Available swim profiles
Pool Swimming, Open Water Swimming, Swimming/Running
Open-water swim metrics (distance, pace, stroke count/rate, stroke distance, swim efficiency (SWOLF), calories)
 
Pool swim metrics (lengths, distance, pace, stroke count, swim efficiency (SWOLF), calories)
 
Stroke type detection (freestyle, backstroke, breaststroke, butterfly) (pool swim only)
 
Drill logging (pool swim only)
 
Basic rest timer (up from 0) (pool swim only)
 
"Repeat on" rest timer (pool swim only)
 
Auto rest (pool swim only)
 
Time and distance alerts
 
Pacing alerts (pool swim only)
 
Countdown start (pool swim only)
 
Pool swim workouts
 
Critical swim speed
 
Underwater wrist-based heart rate
 
Heart rate from external HRM (real-time during rests, interval and session stats during rests, and automatic heart rate download post-swim)
yes (with HRM-Swim or HRM-Pro)
Kid Activity Tracking Features

Toe-to-Toe Challenges app
yes (optional Connect IQ Toe-to-Toe Challenges app)
Connectivity

Smart trainer control
 
We currently only ship in India . For deliveries outside India , Please drop a mail to vishal@thanesports.com with your address and we will check if we can process your order with our delivery Partner .
How long will it take to get my orders?

It depends on where you stay . Normally all orders are dispatched within 12 to 48 hours .
Our customer support is available from Monday to Saturday : 8am-8:30pm.
Average answer time: 4 hours