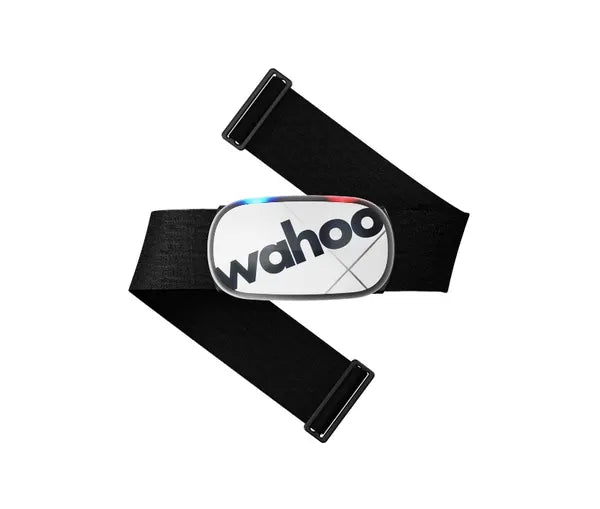 Wahoo Tickr X Heart Rate Monitor
---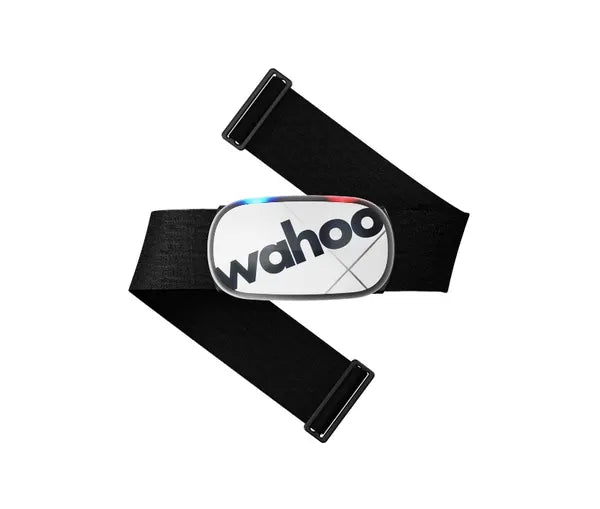 Every effort counts with the TICKR X. Designed to help you get the most out of any workout, the TICKR X monitor tracks heart rate, calories burned, running analytics, and indoor cycling cadence. Equipped with Bluetooth and ANT+ technology, it connects to your favorite training apps, GPS watches and bike computers, supporting up to three simultaneous Bluetooth connections. Its new design makes it one of the lightest and slimmest heart rate monitors, plus the new integrated heart rate sensor and chest strap design provide a more secure connection and fit! The TICKR X even has 50 hours of onboard memory for heart rate and calorie data, giving you the freedom to train device-free.
FEATURES
NEW! INTEGRATED CHEST STRAP DESIGN
The integrated sensor and strap design of the TICKR X provides a more secure connection and a more secure fit to prevent sliding and shifting while working out.
NEW! SLIM, LIGHTWEIGHT HEART RATE SENSOR POD
At 1.7oz (48g) and 12.01mm thick, the TICKR X is one of the lightest and slimmest heart rate monitor and strap combinations, not to mention the most comfortable!
NEW! MULTIPLE SIMULTANEOUS BLUETOOTH CONNECTIONS
TICKR X supports up to three simultaneous Bluetooth connections for a trouble-free start to your workout.
NEW! TOP DISPLAY LED INDICATOR LIGHTS
Two LED lights show visual confirmation of the TICKR X connection status via Bluetooth and / or ANT+: searching for a connections (blue slow blinking light), connecting (blue fast blinking light), and reading heart rate (red blinking at current beats per minute).
NEW! ANT+ RUNNING DYNAMICS
When TICKR X is paired with a GPS multi-sport or running watch, the ANT+ Running Dynamics will be broadcast on the TICKR X and recorded on the watch for real-time feedback. Seeing this data in real-time can help you make form adjustments, such as proper cadence, to improve your performance during your workout.
DUAL-BAND ANT+ AND BLUETOOTH TECHNOLOGY
Both ANT+ and Bluetooth capabilities allow for a wireless connection to both smartphones and GPS devices at the same time or separately.
REAL-TIME HEART RATE, CALORIE, AND WORKOUT DURATION TRACKING
TICKR X measures vital workout metrics, including heart rate, calorie burn, and workout duration in real-time with the Wahoo Fitness app. These metrics can also be sent to compatible third-party apps that track these metrics.
FRONT SENSOR & STRAP CONNECTION
The front connection on the TICKR X sensor and strap allows you to gear up and go quickly. You don't have to fumble through side placements of snaps and hooks.
COIN CELL BATTERY
Includes a coin cell battery that can last for over 500 hours of workouts.
INTERNAL MEMORY
With on-board memory that can record your workout, the TICKR X allows you to leave your smartphone behind and still capture heart rate, calorie burn, and workout duration. The memory holds up to a 50 hours of workouts!
INDOOR CYCLING CADENCE
When paired with the Wahoo Fitness App and an indoor cycling workout is selected, the TICKR X will measure cycling cadence.
RUNNING ANALYTICS
The TICKR X has a built-in accelerometer that measures indicators of running form: Stride cadence, vertical oscillation, and ground contact time.
ADVANCED PERFORMANCE MATERIAL STRAP
Made from advanced performance materials, the TICKR X strap is designed to fit comfortably chest, yet stay securely in place during intense activity.
APPLE WATCH AND APPLE TV INTEGRATION
Connect directly via Bluetooth to your Apple Watch or Apple TV as another option for gathering heart rate data while you workout.
PELOTON IOS COMPATIBILITY
TICKR X easily pairs with the Peloton Digital iOS App via Bluetooth to get real time heart rate and calorie data during your workouts.
THIRD PARTY APP COMPATIBILITY
Works seamlessly with over 50 apps - including SYSTM, Zwift, Peloton for cycling and Runkeeper and MapMyRun for running.
ABOUT THE TICKR X
SLIM, INTEGRATED DESIGN
With the lightest and slimmest design available, the TICKR X chest strap heart rate monitor makes it easy to stay focused and maximize every workout. The integrated front-snap is easy to use and the slim, form-fitting design is both comfortable and secure. Top-mounted LED lights verify your heart rate is tracking to ensure you capture data from every workout.
FREEDOM TO MOVE
The 50-hours of onboard memory lets TICKR X capture heart rate data across running, cardio and strength training device-free, which can be uploaded and analyzed at a later time.
RUN SMART
Utilizing Bluetooth and ANT+ technology, the TICKR X heart rate monitor chest strap syncs critical running dynamics like cadence, ground contact and vertical oscillation with your sport watch or other compatible device. The TICKR X also supports ANT+ Running Dynamics and can send data directly to your GPS watch.
POWERFUL CONNECTIVITY
Pair TICKR X to multiple devices at once, with up to three simultaneous Bluetooth connections, and to the most popular training apps to create a dynamic workout experience.
Part Number: WFBTHR04X
Physical Dimensions (LxWxH): "2.5"" L x 0.2"" W x 1.5"" H (6.3cm L x 1cm W X 3cm H)
Weight: 1.7 oz (48 g) with strap
Battery: Coin Cell (CR2032)
Battery Life: Over 500 active hours
Sweatproof: Yes (Handwashable Strap)
Water Rating: IPX7 (Waterproof up to 5 ft.)
Strap Length: Adjustable from 23" to 48"
We currently only ship in India . For deliveries outside India , Please drop a mail to vishal@thanesports.com with your address and we will check if we can process your order with our delivery Partner .
How long will it take to get my orders?

It depends on where you stay . Normally all orders are dispatched within 12 to 48 hours .
Our customer support is available from Monday to Saturday : 8am-8:30pm.
Average answer time: 4 hours